The sweet tooth saga continues! Deep in summer, and can't remember the last time I turned my oven on. Luckily, these no-bake, raw vegan nicecream bars require nothing more than a blender and freezer! They are so simple to make, yet taste decadent. You'd never guess there was Vital Proteins Spirulina hidden in here! Yep, you're getting a nice dose of plant-based protein, chalked full of nutrients.
If you have no idea what Spirulina is, I wrote a whole blog post on the benefits! I love using Vital Proteins Spirulina because it comes in powder form, making it the perfect, easy addition to recipes. Just open a few capsules, pour in the blender, and you've got a nutrient dense dessert!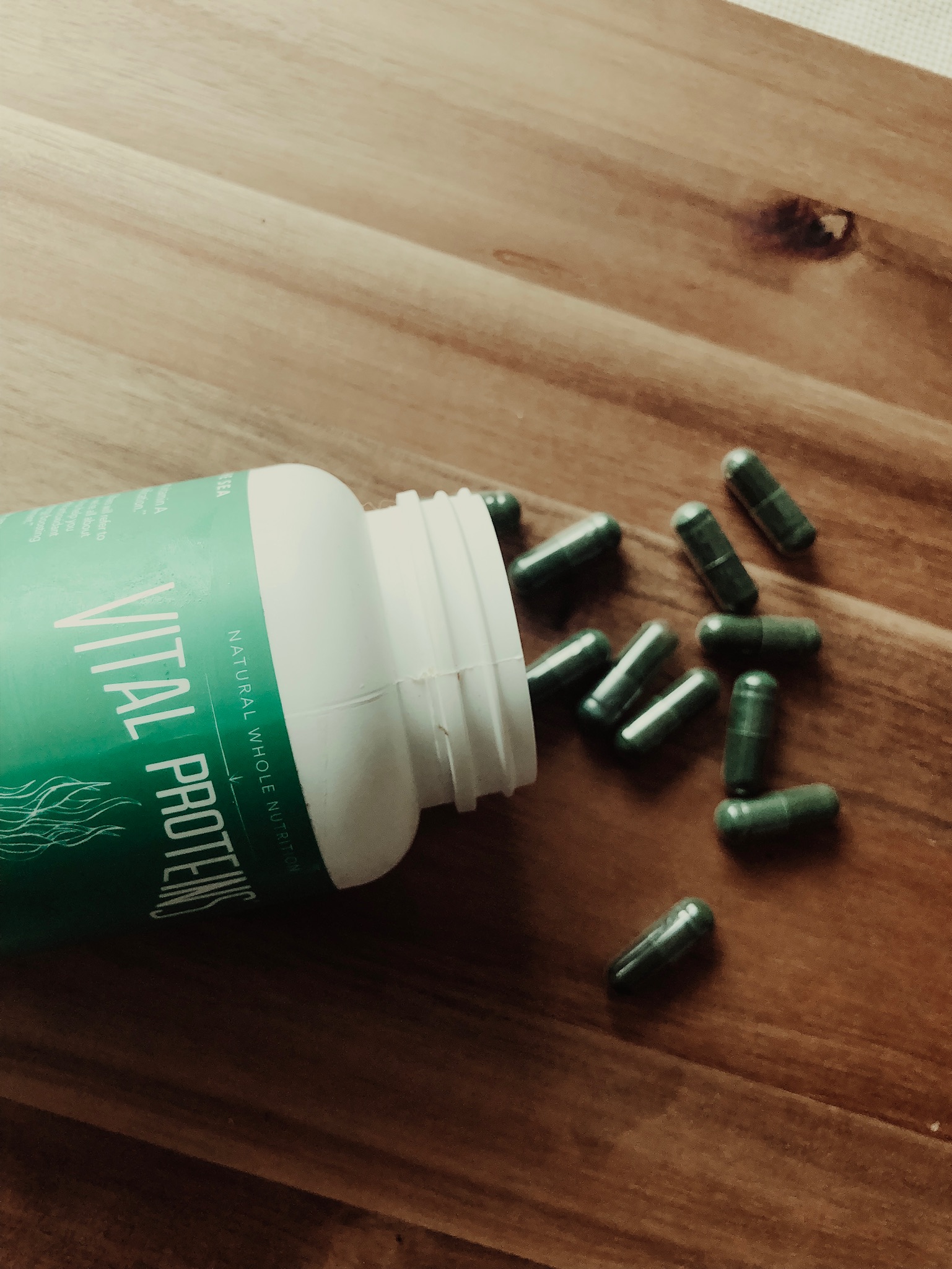 These bars require nothing more than oats, dates, banana, cacao, spirulina and vanilla. So simple right?! I'm one for simple ingredients, simple recipes. You don't really even need to measure, but I did that for you just incase. This is one of those recipes where you can just pour a bunch of ingredients into a blender, and its bound to taste good. I combined my no-bake brownie bars as the base, and topped it with my Spirulina Nicecream. Best decision ever.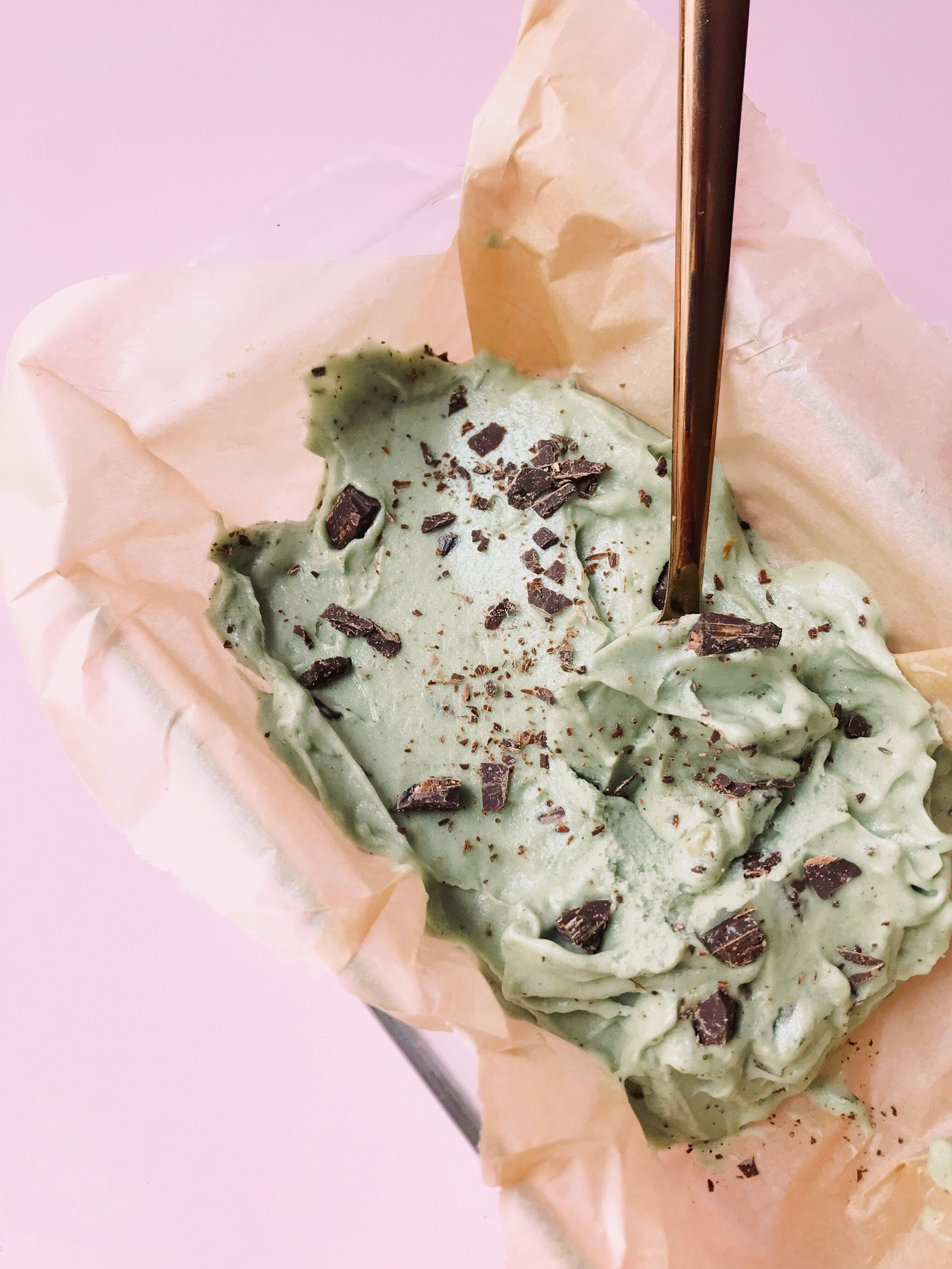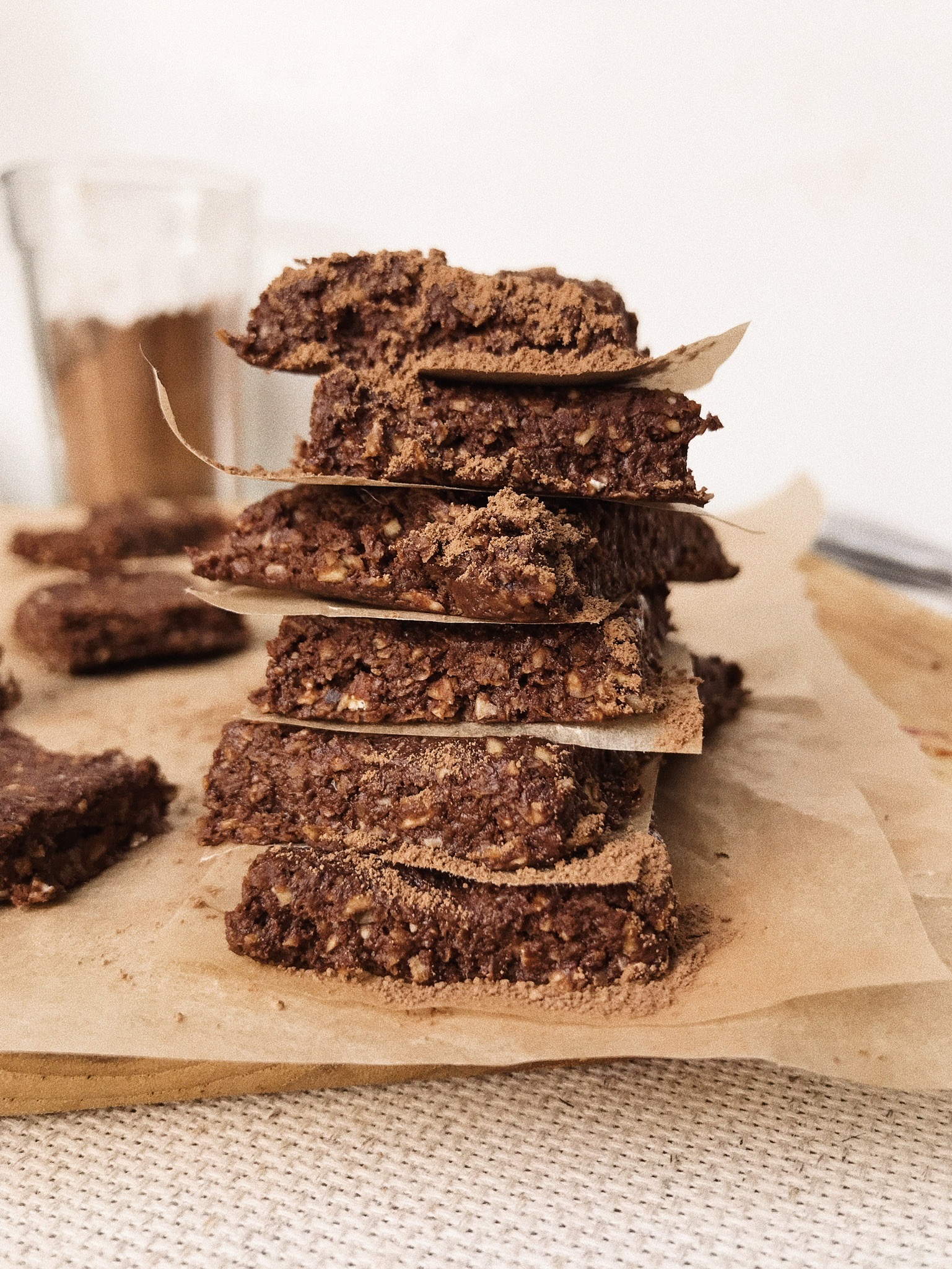 If you're not a huge mint chip person, you're in luck — these bars still taste amazing without it! The spirulina is what gives the bars the green color. To be specific, the antioxidant phycocyanin is what gives spirulina its beautiful hue! Research shows phycocyanin has the ability to generate the production of stem cells, giving your body the tools it needs to repair itself! It is one of natures most perfect forms of nutrients — a complete protein, chalked full of vitamins and nutrients, and completely plant based/vegan.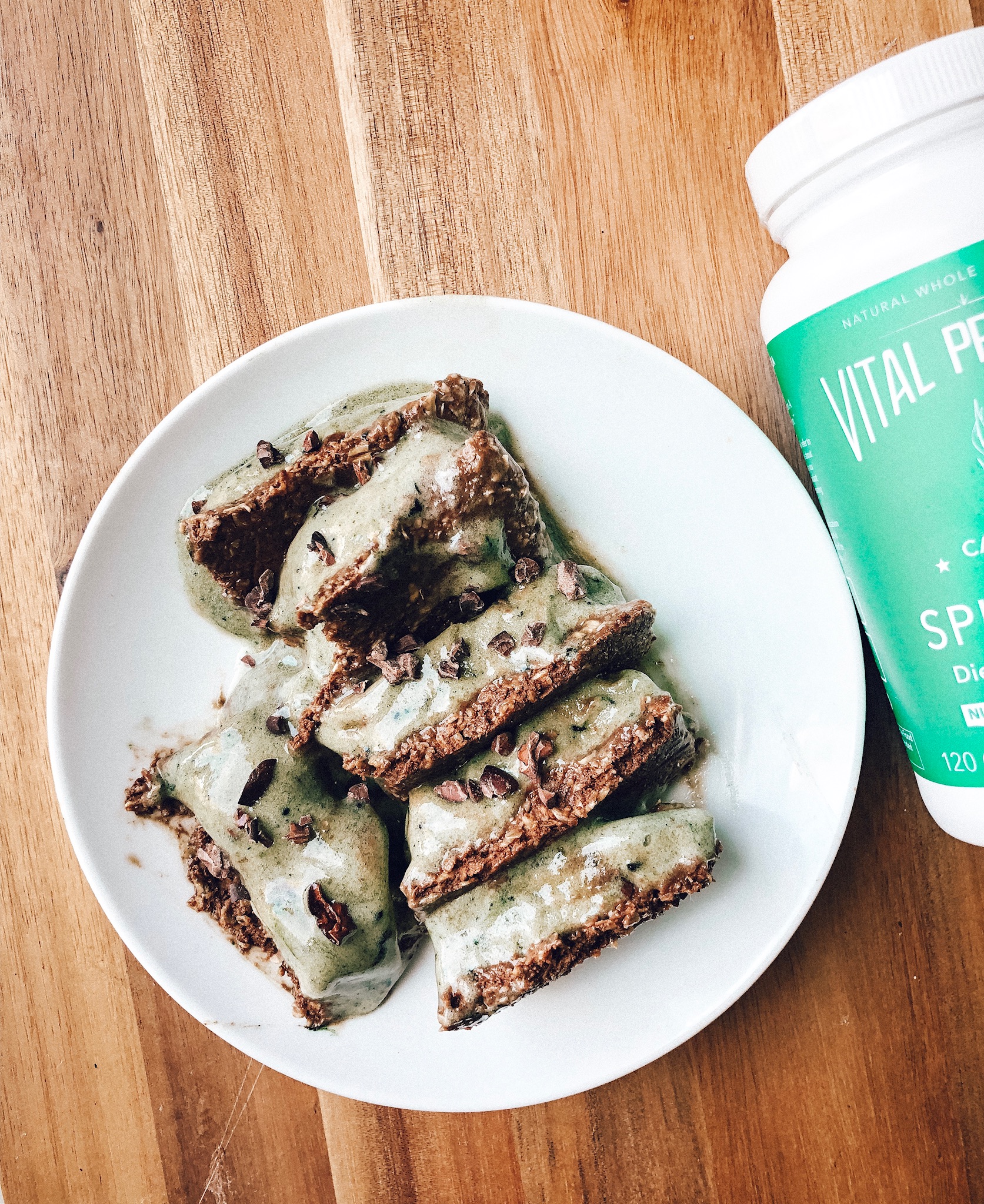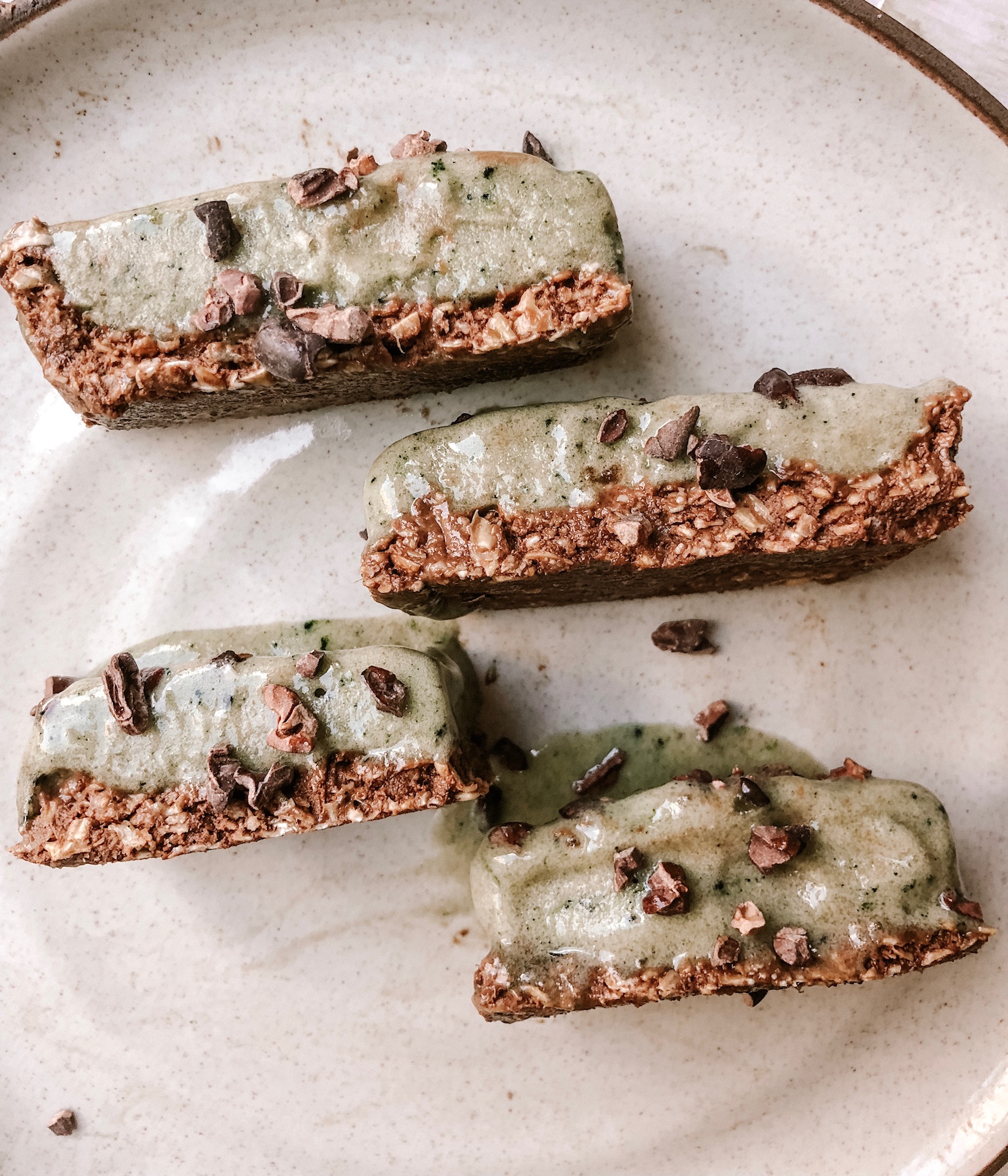 Have I convinced you yet? Try out this dessert for yourself! I have the biggest sweet tooth, and this satisfies it without fail.
Spirulina Nicecream Bars
Ingredients
1 c rolled oats
1 c large pitted medjool dates (soak in warm water for 3-5 mins if not soft)
1/3-1/2 c cacao
1 tsp vanilla extract
Small handful of mint leaves or 1/2 tsp mint extract (optional)
Chocolate of choice (optional)
4 capsules Vital Proteins Spirulina
4 spotty frozen bananas
Directions
Step 1

In food processor or high speed blender, combine the oats, dates and cacao

Step 2

Blend until a dough forms, adding splashes of water as needed to combine (could also use nut milk)

Step 3

Once dough forms (should be cookie dough consistency) line a pan with parchment paper, and spread dough evenly along surface

Step 4

Add remaining ingredients to a high speed blender or food processor and combine until an ice-cream texture is formed. This may require scraping down the sides a few times

Step 5

I find it tastes best when it has a "whipped" texture

Step 6

Fold in chocolate chips/chunks of choice (optional)

Step 7

Freeze overnight or 6-8 hours. Tastes best slightly thawed