Summer is in full swing, and all I want is something cold! A girl can only have so many smoothie bowls a day, but I still have a sweet tooth and like to have something else on hand.
Who else enjoyed popsicles and Italian ice on hot summer days?! Well, I made some simple, delicious, and nutrient packed popsicles! They are so easy to make, with only coconut water, raw honey, citrus, nut milk, and even a little spirulina added to them for the ultimate nutrient boost 🙂
All you have to do is toss all the ingredients into a blender, and taste test! You can leave out the nut milk for 100% coconut water (or vice versa), add more or less berries, sweeten with maple syrup vs honey — you get the picture. This recipe is extremely adaptable! Simply taste test to your liking before you pour into the molds!
I used Vital Proteins Spirulina in this recipe to add a healthy source of plant based protein and a nutrient boost! You don't even taste it, and you're supplying your body with so many nutrients. Vital Proteins sources their Spirulina locally from California, as thats always important to look at when purchasing a spirulina product! Spirulina is a potent detoxifier, and is a great source of vitamin A, vitamin K and other potent phytonutrients that help to aid in the body's ability to naturally detoxify while giving our overall energy levels a huge boost. It does taste strong, so this recipe is the perfect way to balance out the taste!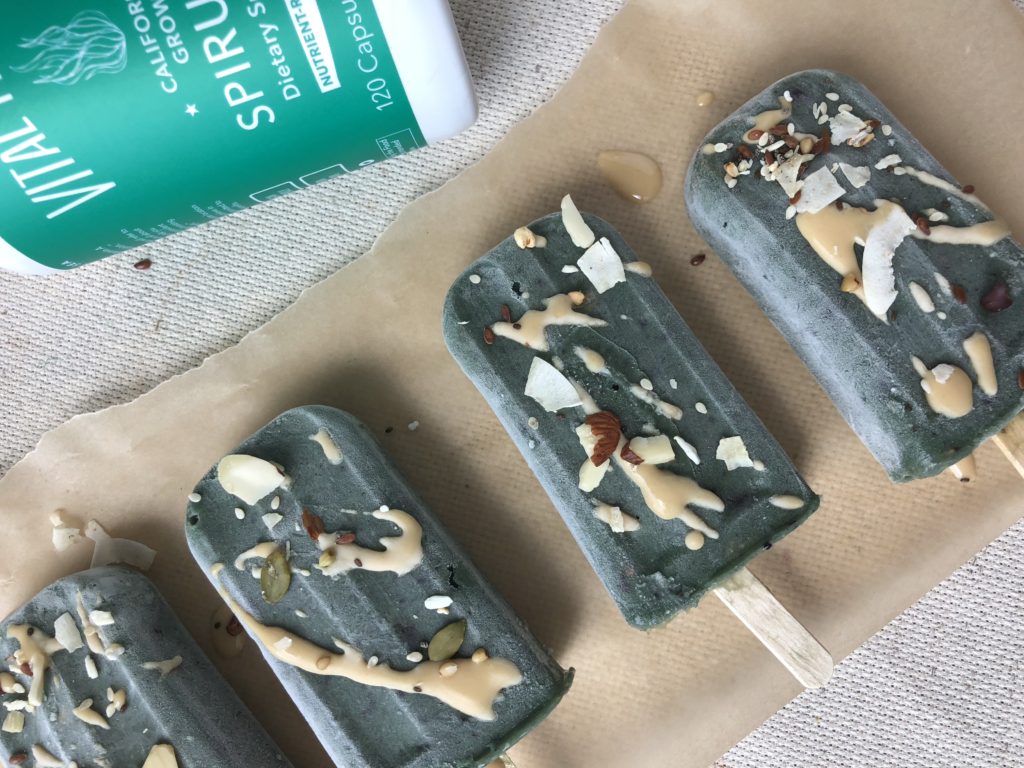 Spirulina Popsicles
Ingredients:
2 Cups Coconut Water (be sure its a brand not from concentrate)
1/2 Cup Nut milk of choice (coconut milk tastes great here!)
1/4 Cup Pure Lemon Juice (could also sub lime juice)
2-4 Tablespoons Raw Honey (could also sub maple syrup)
Contents of 1-3 Capsules of Vital Proteins Spirulina
Instructions:
Add all of the above ingredients into a blender
Blend until everything is well combined (no clumps)
Taste test! Add ingredients as needed
Pour liquid into popsicle molds
Freeze for 1/2 hour to one hour, then add popsicle sticks in
Freeze overnight
Enjoy 🙂